1 on 1 Online Chinese Program on Skype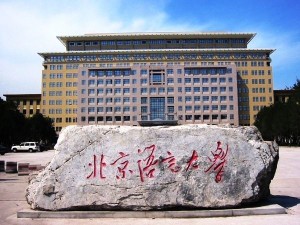 Program introduction:
1 on 1 Online Chinese Classes are taught by the Online Education College of Beijing Language and Culture University. These are personalised classes taught 1 on 1 using Skype (or similar software) to international students. The goal of the program is to use internet technology to provide you with a high quality Chinese language tuition service. The program is personalised for you, and can be a comprehensive Chinese language training program, or as an add-on program to provide personalised tuition to promote oral fluency.
Program advantages:
– Personalised – Tailor-made classes to suit your Chinese level and learning goals
– High quality – 1 on 1 structured classes with professional BLCU teachers with over 7 years training
– Affordable – Classes start at 100 RMB ($17.7 USD) per class
– Flexible – Take Chinese classes whenever or wherever suits you, all you need is an internet connection
About BLCU
Beijing Language and Culture University (BLCU) is China's No.1 Chinese Language Learning University for foreigners. Every year thousands of international students come to study BLCU to learn Chinese. Since the liberation of China, BLCU has played a major role in teaching Chinese to foreigners and continues to be at the forefront of Chinese learning methods. For more information visit the page here.
About the Online Education College of BLCU
The Online Education College of BLCU is a separate college of BLCU with the purpose of providing Chinese language training online. The Online Education college teaches international students, and also teaches Chinese teachers.
Courses
The online courses are tailor made according to your current Chinese level and learning goals. With the large expertise of BLCU as the No.1 Chinese teaching University for foreign students in China, there are many available teachers who are able to teach specialised classes on a wide range of subjects.
The course levels, required characters, and learning outcome for each level can be downloaded below:
– Click here for class Levels, requirements, and learning outcomes –
The courses cover the following areas:
– Beginners Chinese
– Intermediate Chinese
– Advanced Chinese
– Travel Chinese
– Oral Chinese
– Chinese Characters
– Chinese for kids
– Business and Commercial Chinese
– Translation Chinese
– Specialised Chinese
– Legal Chinese
Mode of teaching:
The classes are taught using skype with the use of a slideshow presentation, and a variety of different exercises.
The curriculum is divided into sections, each section has a number of grammar points and new vocabulary to learn. Each presentation is created by the teacher in preparation for each class. An example of the slideshow is shown below of an intermediate student. You can also order text books to accompany this.
Class schedules:
You need to order and pay for their classes in advance. Once ordered you can then arrange the class times with your teacher. The available teaching time is between 8.30am and 10pm Beijing time. The last class will start at 9pm Beijing time. You need to book your classes at least 3 days in advance to allow the teacher time to prepare for the lesson. If you need to cancel a class you need to do so at least 24 hours before the class otherwise you will still be charged for the class.
Teaching Methodology:
1) Student-centered learning. You will work with the instructors to set a language learning goal for the period of instruction. We design a unique set of learning materials for you in order to best address your individual goals and needs.
2) Innovative teaching methods. We employ effective, classroom-tested Chinese teaching methodologies in our classes. However, we are constantly searching for even more ways to improve our instruction.
3) Emphasis on practicality. We place a high priority on your ability to immediately use and apply what is learned in the classroom.
4) Mastery of the fundamental elements. We use fun and engaging exercises to help you master the most frequently used vocabulary and grammar points.
5) Effective trouble-shooting. We systematically target problem areas for you and provide consistent, gentle correction.
6) Confidence building. Classes are designed to maximize the amount of time you spend speaking and using Chinese. Only in an intensive one-on-one setting can the instructor give you the individual attention they need.
Teachers
The teachers of the BLCU Online Classes have studied teaching Chinese to foreigners for at least 7 years. Due to BLCU's expertise in teaching Chinese to foreigners, there is a large supply of high quality teachers who are able to teach, beginner level, and in different specialties. Some of the teachers and their experience are below. For full information visit the teacher information page here.
Testimonials
Here are some testimonials from other students. For full testimonials visit the testimonial page here.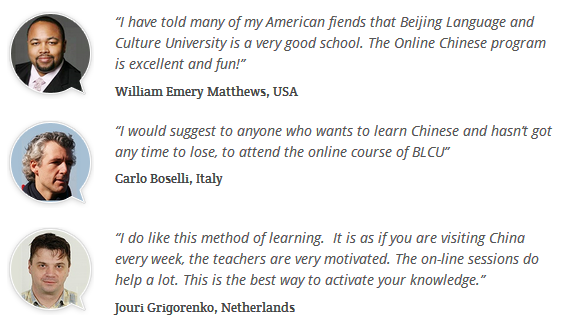 Certificates
After completing the Online Classes, you can request a certificate. This will be an official certificate awarded by Beijing Language and Culture University and sent to you. For more information contact us here. An example is shown below: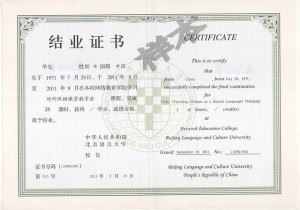 Admissions
To apply please should complete the application form on the page here.
Tuition Fee
The tuition fee is:
30 Classes. Total = 3,900 RMB
60 Classes. Total = 7,410 RMB
90 Classes. Total = 10,530 RMB
120 Classes. Total = 13,260 RMB
150 Classes. Total = 15,600 RMB
If you would like to take classes at BLCU, then these would be an extra 20 RMB per hour. If you want to learn specialised classes such as legal, commercial, translation Chinese, these are an extra 20 RMB per hour.
Tuition fee can be paid by a variety of different methods and currencies on the page here. If you need any assistance contact us here, or at admissions@blcuchinese.com.
Apply Now